---
FedEx management hit back, saying workers were offered the logistics industry's biggest pay raise
FedEx employees to start rotating strikes in six states
The interrupted industrial action will resume at FedEx with consecutive four-hour shutdowns starting Nov. 22 after talks broke down when the company even refused to consider a reasonable counter-offer presented to them by workers, has declared the Transport Workers Union (TWU).
The TWU calls on FedEx to abandon its approach to attack workers and work cooperatively on a safe, secure and sustainable future that defends it against the threat of the "Amazon effect".
According to the TWU, the workers offered what they believe to be a fair solution on November 17, which would provide their families with financial security sooner without adding costs to the company. However, the union says FedEx management persisted in refusing to deliver a deal offer that rewards workers for their hard work and restraint in a record year of multi-billion dollar profits for FedEx and its customers like Amazon and Apple.
Previously, FedEx workers suspended industrial action after the company agreed to union meetings during paid time across the country. During those meetings, workers overwhelmingly endorsed taking further steps to break the deadlock, with FedEx management taking the lead from the United States.
The TWU points out that FedEx is the only major transport operator remaining in Australia that did not reach a deal with the workers following a settlement between TWU members and StarTrack on Friday.
FedEx, however, says the offer it announced would be the biggest pay rise for workers in the logistics industry, a total of 9.25% over three years. In addition, FedEx said it has proposed to increase retirement pensions over the three-year period, reaching 13% in 2024.
"This is the most competitive offer made by a company in our industry, providing certainty over salary increases over the next three years at a time when external economic conditions are difficult to predict," said Peter Langley, Vice President, FedEx Express Australasia.
"We look forward to concluding these negotiations and ensuring that these industry-leading increases are passed on to employees quickly. "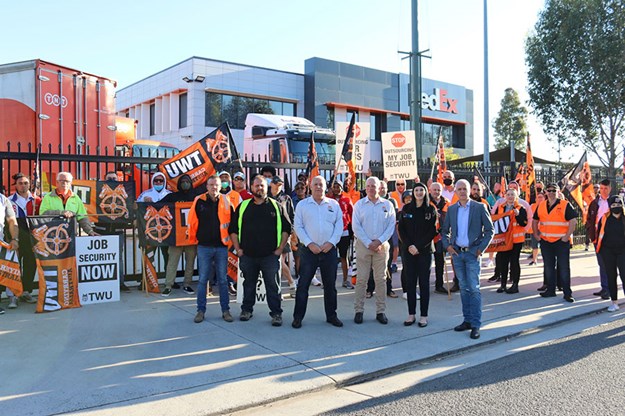 Michael Kaine (far right) joined the FedEx strikers at the organization's Erskine Park depot in October.
However, TWU National Secretary Michael Kaine said FedEx workers hit a brick wall when pitching their solutions. He calls on FedEx to recognize its workforce as its greatest asset, not its enemy.
"The overzealous stubbornness of FedEx management is hurting working families, the public and his own business," Kaine said.
"Industrial action is the only option left for workers in the face of a hostile international juggernaut which is waging a losing battle on the basis of a distorted ideology.
"With Christmas just around the corner, it's time for FedEx management to reorient their energy towards providing a viable and reliable service with a valued workforce at its heart.
"The threat of being undermined and overwhelmed by Amazon's delivery network, which is being exploited and expanding, is exactly why FedEx should be working with union members to protect good transportation jobs. FedEx must come back to the table, reward workers for their sacrifices and join forces to demand regulatory solutions to protect legitimate businesses working within the industrial system, "he said.
---
RELATED ARTICLE: TWU Makes Job Security Offer to Quell Strike
---
Work stoppage actions are planned in all states for the first three days of next week, starting with New South Wales and Western Australia on November 22. Victoria and Tasmania will follow on November 23, with Queensland and South Australia taking action on November 24.
The TWU said the workers would determine whether the industrial action continued on an ongoing basis.
FedEx believes the "TWU strikes" come against a backdrop of Australian retailers and small businesses already under pressure from supply shortages. He cites a recent Deloitte showing that only 52% of retailers expect all of their stock orders to arrive before Christmas sales peak.
"These TWU strikes hit an industry that needed a boost over the holidays."
Subscribe to our newsletter
Sign up to receive the Owner Driver's email newsletter, digital magazine and other offers that we choose to share with you straight to your inbox
You can also follow our updates by liking us on Facebook.

Trucks for hire | Forklifts for rent | Cranes for hire | Generators for rent | Transportable buildings for rent